1/7
Louie playing for the first time after his amputation. Louie is doing great. He is available for adoption and he is amazing. Please contact us to give Louie a forever home (305-302-5751)!
2/7
Chispi (now Lily) welcoming her mom after work. She is so happy to see her mom. This little girl may be a senior but she is so full of life and love! (There is a small black period on video, but it continues, please watch till the end).
3/7
Chispi is a senior dog taken to a local vet by her owner to be euthanized after being mauled by a much larger dog. The owner opted to euthanize due to cost. Chispi was 14 years old when mauled but was in good health overall and sat in the cage at the vet alert and even wagging her tail. The vet reached out for help as they did not want to euthanize this lively little girl. She required a month of treatment for her skin and was adopted by a wonderful lady who has provided her with a loving home. Chispi (now named Lily) is completely healed from her injuries. Lily loves going to the beach with her mom and loves car trips. Please check our video of Lily welcoming her mom home after work!
4/7
Louie is a senior rat terrier who found himself at our county shelter. He had an injured leg that he could not extend and walk on. The injury was old and Louie had suffered for a long time. Due to his medical issues, Louie was overlooked at our county shelter and faced euthanization. We rescued Louie and after consultation with an orthopedic surgeon, the decision was made to amputate the leg as it was not usable and Louie was attacking his own leg. Louie is now recovering in a foster home. Louie will remain with his wonderful foster parents until he is completely healed and then will be placed for adoption. We hope to find Louie a wonderful forever home. Please check our video of Louie!
5/7
Tony, a senior poodle, was taken to our county shelter, Miami Dade Animal Services. He was very ill and set to be euthanized an hour before we picked him up. Sadly, Tony had terminal cancer and diabetes. Tony only lived for 6 weeks with us before passing away but during that time he enjoyed his wonderful foster home, he had many home cooked meals prepared for him and every day he took several short walks in the backyard and received all the love and attention his foster parents could give him. Tony saw the vet every Friday and showed significant improvement during his weeks with us. His scabs and skin issues healed completely, he had more energy and his diabetes was monitored. Although his time was short with us, he did not die in a shelter, he was loved until his last moments and he died surrounded by his family.
6/7
Pancho is a senior chihuahua who at the age of 12 was brought to our county shelter. When we picked up Pancho, all 5 pounds of him, he was rolled in a ball in a cage and he barely lifted his head. We knew Pancho had terrible teeth and a fistula (hole) in his mouth from the shelter medical notes but sadly he was also in kidney failure. Pancho was hospitalized three times before his kidney values improved. For the first few weeks, we did not think Pancho would live. But after extensive medical care, Pancho rebounded. He also received extensive dental surgery. Pancho is in kidney failure (that cannot be reversed) but with daily medication and renal food he has made a remarkable turnaround. Pancho now has a very good probability of living many more years. Pancho sees the vet every 4 to 6 months to monitor his kidneys. Pancho is currently doing very well, loves his foster parents and fursiblings. He now runs with his siblings and plays like a younger dog!
7/7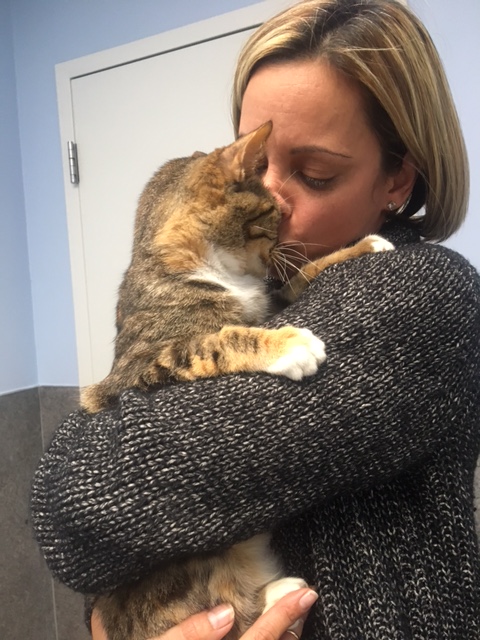 Dora, a 10 year old cat, was abandoned by her family after they moved. We were contacted by a neighbor and took Dora to the vet where she was found to be very ill. In addition to needing all her teeth removed and having a terrible upper respiratory infection, Dora had numerous mammary masses (which were removed and biopsied) which turned out to be mammary cancer. We scheduled her with an oncologist at Leader Animal Hospital and she received chemotherapy. While in treatment, her oncology nurse fell in love with Dora and adopted her (that is her mom in the photo). She now lives with her mom and has continued her treatment. Since her mom is a oncology nurse, she has received the best of continuing medical care. Dora's journey has not been easy and with cancer it will be a continuing struggle but she now has a loving home for the time she has left.