1/6
Before launching in September of last year, we reached out to the community to see why they needed a place like EXILE Books.
2/6
In April of 2015 EXILE partnered with O, Miami and YoungArts to host the first Miami Zine Fair as part of our mission to create accessible hubs for independent culture that represent and amplify the diverse voices in our community. Over 70 artists, poets, and activists descended upon the fair, performing, hosting workshops, and selling their zines and printed matter. Support was overwhelming: more than 1,000 people came out to explore Miami's independent print culture.
3/6
Our store components pictured here are mobile and easy to set up - great for traveling. We take them with us wherever we go, presenting new site-specific titles, exhibitions, and public programming. This way, our hybrid art installation and bookstore provides a unique viewing experience with each iteration. Our constant evolution helps us continuously strengthen the fabric of South Florida's literary community with a stream of both new audiences and regular supporters. Over 2,500 people attended 15 different free zine-centric events over the course of EXILE's five month residency at HistoryMiami Museum. Since launching in September 2014, EXILE's grown steadily, reaching over 12,750,000 people in Miami-Dade. We continue to have daily visitors, maintain consistent sales, grow our social media presence, and receive fantastic, multilingual press coverage.
4/6
The I-d Project opens on October 6 at the Lowe Art Museum as a pop-up exhibition and experimental space that encourages visitors to reflect on and explore notions of identity through art and the written word. Occupying the space of the Lowe's former Store, the I-d Project, which will be on view through April 2016, encompasses a display of books and identity-centric artists' books and zines for purchase and browsing, with a focus on questions such as: Who am I? Who are you? Who are we? The I-d Project will be accompanied by a series of "identity salons" that invite visitors to tackle this fundamental concept from a wide range of angles, including gender, sex, culture, race, age, and socio-economic status. In addition, special programs will address the theme of identity, and complement the Lowe's dynamic exhibitions currently on view, all of which speak to the notion of identity and Walt Whitman's truism: "We contain multitudes." The schedule of salons and programs will be announced.
5/6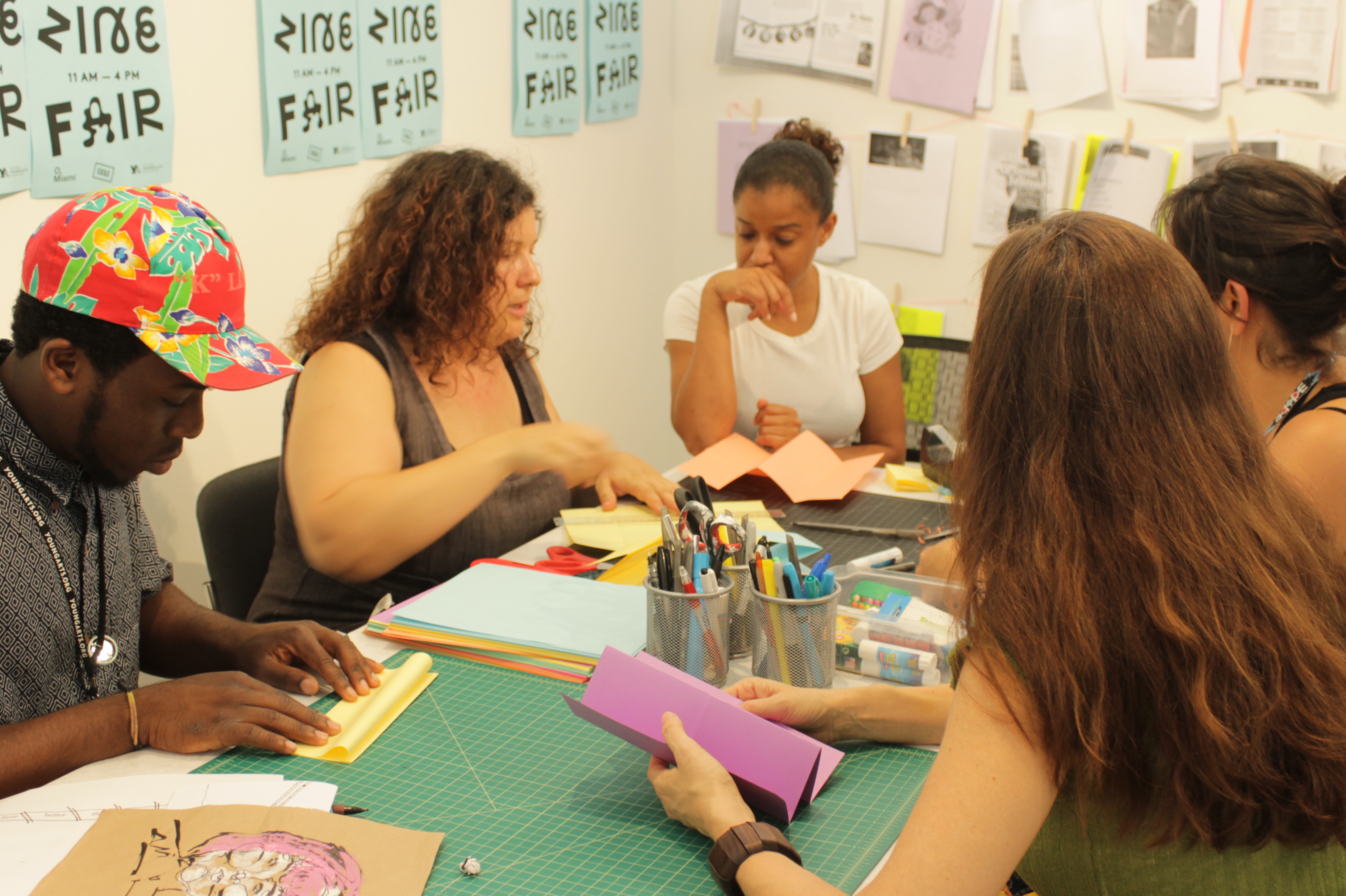 Artist Sandra March shares how to make your own minizine creation during her workshop at the inaugural 2015 Miami Zine Fair at YoungArts.
6/6
EXILE Books was pleased to present the 2016 Miami Zine Fair in partnership with HistoryMiami Museum and O, Miami Poetry Festival. The 2016 Miami Zine Fair took place at the HistoryMiami Museum on the 30th of April from 11 am to 5 pm, bringing together over 150 artists, writers, illustrators, activists, and poets under one large tent on the cultural plaza. The event featured live DJs, performances, site-specific artworks, and workshops. This year's zine fair highlighted the wide array of makers that are embracing the art of self publishing in our city, drawing in people of all ages and backgrounds. The fair offered something for everyone: visitors discovered participatory installations, multimedia activations, as well as hundreds of independently-published works on display by local and international artists. Ranging from the simple to the saddle-stitched, the public was invited to touch, feel, peruse, and even smell.